Just my two-cents of the all-time favorite Bourjois Rouge Edition Velvet.
Almost every girl raves this liquid lipstick from the first time it was launched. Due to high demand in the market, official Bourjois counter often lost number of stock especially for most popular shade like Nude-ist 07 and Beau Brun 12. To make it even worse, many (Indonesian) online beauty shop taking benefit from this situation by buying wholesale stocks/overseas delivery then deliberately increasing their retail price in domestic market so people won't think twice to spend their money to have this 'overly raved product'.
But that's before I try it by my own. I have to admit that this product is truly incredible; worth the talk.
Bourjois Rouge Velvet Edition
(RVE) is a moisturizing matte form of a liquid lipstick. It is retailed for IDR 188.000 of a 7,7ml nett in official Bourjois counter and offers a bold and gorgeous 17 shades (the latest 16 & 17 is the latest shade) spanning from delicate pink-nude hue to bold red color.
More info from their website:
Exclusive formula: Matte finish and incredibly light.
Rouge Edition Velvet by Bourjois is the new era of lipsticks. An amazing, irresistible formula.
Its soft, melting texture glides on to the lips and turns into a matt, velvety and incredibly light colour. Lips are left smooth and soft as velvet.
Enriched with evanescent oils, it's incredibly sensuous formula provides a soft, second-skin feel, without drying or fading lips.
Tested for you:
The texture of the lipstick is undetectable after application* - 78.8% agree
The lipstick is comfortable to wear all day long* - 79% agree
Bold colour with matt finish.
As a colour expert brand, Bourjois knows that saturated colours are enhanced by an amazing matt finish. Rouge Edition Velvet shades are true "colour shots" with a chic matte finish!
Thanks to the formula being saturated with pure pigments, each shade perfectly covers lips with bold, very intense colour. An ultra-fashionable result, straight from the catwalk!
PHOTOS
Bourjois REV comes in a sleek transparent tube showcasing its inner content so you can easily reach out your go-to shade. The tube comes in a twisted cap in matching color with the shade, whereas the applicator comes in doe-foot tip. REV is made in France and promoted to have light texture, extreme comfort and 24hour matte finish. Photo below will show you the first batch of 15 shades, photo courtesy of Alodita.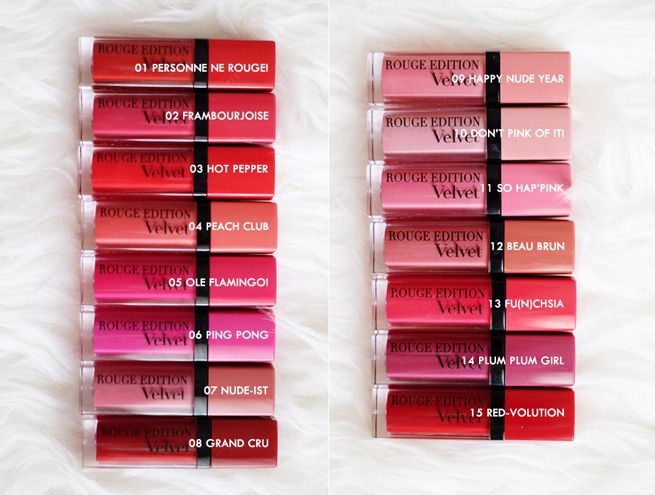 Coutesy of Alodita
Click here to read Alodita's review
The texture of REV is velvety and mousse-y, also enriched with moisturizing agents and captivating pigment even in its first swipe. It feels creamy and bit airy like a mousse but glides easily with an opaque finish. It takes 1-2 minutes to dry it into comfortable matte finish and has slight minty-vanilla scent; don't worry it will fade away as soon as it's applied. Somehow I feel minty sensation when first applied it, does anybody experience the same? However, it doesn't stay as long as 24hours as the ad says, normal staying power lasts for about 5-6, but it will start to smear off especially in the center part of your lips after having meal/drink.
SWATCH
Nude-ist 07 is a universal mauve-rose shade, whereas Beau Brun 12 has an intricate warmer red-rosewood hue. Both shades looks versatile for both warm or cool skin-tone but amazingly have different hint when applied on lips. Nude-ist 07 has noticeable pink hint, whereas Beau Brun 12 showcases warmer red-brown hint. Both pictures below taken in different time and lightning, so it may distort the photo result.
My Verdict?
Bourjois REV, I grant you "my forever holy-grail liquid lipstick"; it covers perfectly with its opaque-matte finish but the ultimate treasure from this product is the enriched moisturizing agents to battle chapped-dry lips. Based on my experience, this velvety-matte liquid lipstick won't make your lip feels stretched nor experience those dead-matte cement-like finish. *cough, K Lip, cough*. However, exfoliate your lips as always before applying any liquid lipstick since matte texture would accentuate your lips condition.Will I repurchase it? Of course yes! No wonder Nude-ist 07 and Beau Brun 12 popularity is taken by the storm.
♥