It's another ZA Full-Impact review. Why? Simply because ZA Full-Impact Eyes series got me head over heel. Let's see what's my 2nd baby got, shall we?
My retail therapy instinct led me to buy a massive haul of ZA Make-up products in last ZA workshop; shopping is the best (retail) theraphy, isn't it?. I ended up frivolously bought several items with another Full-Impact Gradation series in PK 271 even though I already had BR 261. Why? I love how ZA Full Impact Eyes Series delivers a demure, buttery pigmentation without being overly decorated. For more details about ZA, you can read it
here
.
ZA Full-Impact Gradation
in
PK 271
cost for about
IDR 142.000
in ZA counter, but in certain program or occasion they will give you 20% off. The color itself is predominantly in
Pink
spectrum palette with shimmering dark-Brown as it's dark color. It has 3 gr Net. pan and made in PRC or precisely Taiwan.
PACKAGING
Same verdicts with BR 261: ZA Full-Impact Eyes packaging is surprisingly chic and artsy with minimalist L-style pan for each color. There's also application guide in the back side of the outer packaging for easy how-to.

TEXTURE
Full-Impact Eyes series Gradation finishing is consistently shimmering and buttery pigmented.

PIGMENTATION
The color for BR271 is warm pan with Pinkish and Brown spectrum. Great option for feminine and girly look. Starting from the upper pan (1): Champagne tone for highlighting; (2) Light Pink for base of your lids or medium shade; (3) Darker Pink for your lids also; and (4) Dark Brown for contouring your crease.

FORMULA
Primer might be needed as Pink color might ends up bluntly blended. However, ZA Full-Impact Gradation is build-able whilst the color consistency is the main formula of the pan that helps you to create gradient shade. It stays for hours (if you put primer in advance, roger that), doesn't leave any fall out and fragrance free formula.

It's kinda tricky if you're going to apply Pink as your shade since Pink sometime means "childish", "too girly" etc, therefore neutral color might applied to counteract the softness of Pink like strong-defined brow, brown lips, or contoured-cheek. Just remember, to balance everything with it's contrast ♥

PHOTOS
How-to using ZA Full-Impact Gradation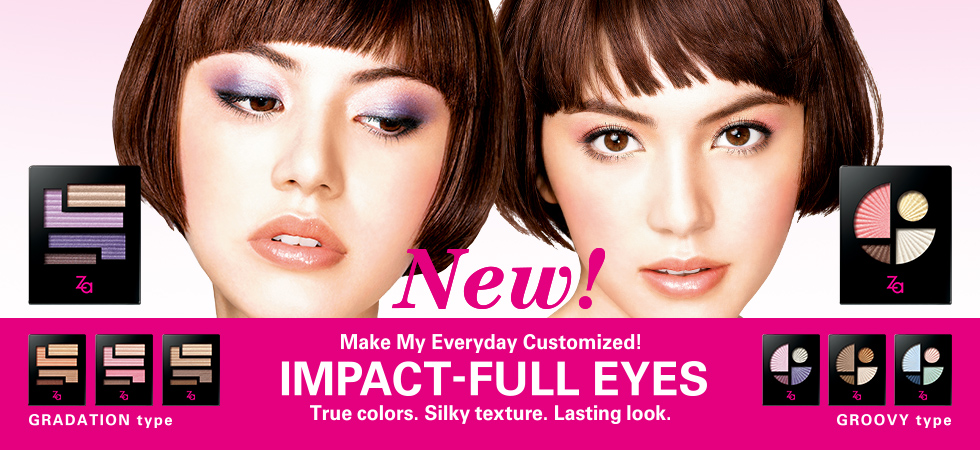 Zoom-in
SWATCH ♥
Bare Eyes <3
Using ZA PK-271 in #02
Using ZA PK-271 in #03
Using ZA PK-271 only
Ps: A lovely song from Korean Indie Band, Busker Busker, to accompany your day <3
Too bad that the lightning during the photos shoot was very cloudy and dark so the color didn't deliver nicely. However, ZA totally amazes us with it's new enhanced formula and packaging. It should be listed as must-have item if you are into girly style look or just want to try subtle and modest style for daily or even special occasion ahead ;) I think I have to stop craving other ZA Full-Impact colors since it's all super-duper enchanting! The only thing difference is the color selection, ever since all the formulas and textures has same result. Therefore, I'm going to offer you selection of ZA Full-Impact Eyes reviews from other lovely Beauty Bloggers for your references below. Stay fabulous and be happy, lovely readers~! ;D
More Reviews? Check it out more links below (
psst, I have to admit Philippines Beauty Bloggers are dazzling beautiful and creative. Love to read their post updates <3
) :