Okay, some of you perhaps already know that currently I am working in a Korean State-Owned company (if not, then you already know now) that steadily induced my daily style. Yup, 9-hour a day times 5-day-a-week interaction could trigger your personal taste or even your life style. Funnily, (normal) Korean people are unlikely what you see in TV or K-drama; most of them are simply plain. Simply plain.
First of all, I would like to say that this post is more or less just sharing my personal (and incompetent) thought about having experience working with Korean company and originally inspired by
ponikuta
blog on how-to Korean look. Why do I emphasized the "Plain" statement above? Simply because most of them (normal Koreans) don't give a shi...., eh, don't care about appearance. Some of them even wear the same clothes over and over again in a week (ehem, my boss), buttoning their Polo-shirt until the top-est button or don't know that baggy clothes no longer trend at the moment (err, my boss), having their hair trimmed with an old-school style by their wife (my boss again) or don't know current famous K-Pop star or EXO, just recognize Super Junior especially Choi Siwon (totally my boss). Somehow, they don't deny that
good looking appearance can boost your career or professional life.
For God's shake.
Therefore, based on my (random and unreliable) observation, I will categorized South Korean people (no, I won't include N.Koreans also since they will list me as target operation for working with S.Korean government company) into 2 groups: the socially awkward group and the socially concerned people. For simple justification, let's consider "The socially concerned people" as SM Entertainment artist and "The socially awkward group" as YG Entertainment artist. Please, no offense. Just sharing :P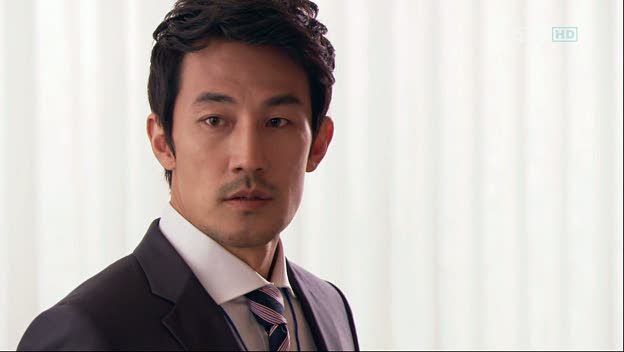 Korean Businessman: Expectation
X
Korean Businessman: Reality
Frankly to say, I will categorized my working environment into YG's group since they don't really care about appearance, as long as you will work hard, hard working until you fall sick and finally you should take a rest more, then other thing is additional point. Ha! My typical working environment rarely commenting on my appearance, however, don't be surprised if suddenly they will praise your look; "Oh, you look beautiful today", "That looks good on you", "You look beautiful", bla bla blah just because they already bored to meet their kind of people; well-groomed business man, stiff and conservative. Therefore, good looking person (especially a lady) is like nutrition for their eyes. Krik.
In some case, these men never go to barber shop just to cut their hair. Simply they will ask their wife to do it (so sweet) and resulted in Aaron Kwok hair style during his golden era. Their choice of color and clothes are countable (once I commend by boss for wearing a nice batik top and he wears it 3-days-in-a-row) and they always complain that "those K-Pop stars are too exaggerate, I'm so busy, I don't have time to pay attention on my look." True story. Even worse once I met this guy who put a white shirt + separated hand cover (I mean, why can't you just buy long sleeve swimming suit?) when he went swimming while our office had office gathering and I was like "Kyaaaa, I can't look at him" since his shirt got transparent all over his upper body. Thank God not his lower part :") Perhaps, since I am working in a State-Owned company thus they select people based on their academic performance or professional competence. Therefore, these people motto: "You can achieve glory by hard-working." Amen!
"Don't judge a book by it's cover."
Somehow, the other Korean workers I met before are not always like my type (lol). Some of them even concern about their look especially their fashion style. Once I met this HQ person (Deputy General Manager, ehem) who use "Marc Jacobs" brand for his Laptop cover, or this man (Managing Director, uhuk) who use Louis Vuitton wallet and name card holder. Glek. Not fair. Or even a certain co-worker of mine from another Korean company (whose name & company will be anonymously written for security reason, haha) let's say A, who is working in a retail company, confides to me about his boss principle that:
"Skill can be nurtured; Good looking is a bless from birth."
Therefore, she said her boss often judge a person competence by their appearance. The more good looking you are, the easier you will get the job. That's why Korean have term "Ulzzang" to refer to a person with a "
perfect-face
" (I will give you slight comparison between Korean term of "perfect look" with Japanese term of "cute look.")
Don't be surprised if a bold-looking Korean man (Kalo bahasa gw-nya: "Yang mukanya kayak kotak amal mesjid") you ever meet is fashionably-concern. They are far from what you imagine like in Korean Drama or K-Pop song, they are far from those Boy band members; they are far from Lee Seunggi. Duh. BUT, they care about the way they look. These people are the typical of Koreans who are not interested with Plastic Surgery or permanently alter their appearance. They are the typical of people who think that "a correct spend of money will improve and boost your look." I guess this principle may apply to several ladies also.
Aside from the common perception that most Koreans (especially women) ever done a surgical operation for beauty reason, still, some of them still believe that "you don't need to permanently change your look"; especially if they're devout religion followers. These kind of Korean business women I ever met (oh, I even can count it) are concerned about their fashion style. Coach! Kate Spade! LV Neverfull Damier! You can easily tag what's designer brand they are using right now by slightly glance at their stuffs. However, beside their fashion sense, they are more likely concern about their skin condition instead of their make-up look. That's why they have 1 holy-rule embedded in their mind: the fairer the skin, the better.
Kenapa saya malah curhat colongan yak? Hahaha. Okay, back to main topic. As far as I had observed, these 3 make-up points are likely to be seen in Korean ladies I ever met; the 3-holy-commandments. It doesn't mean that these 3 points will be applied altogether by the Korean ladies; some only applying 2-3 points but some only applying especially point no. 1 as their holy-commandment. What are they? Why?
1. Radiantly glowing, Spotless, Perfect fair skin.
Expectation: Song Hye Gyo
Reality
First of all, "what's with the fair-skin concept?"
#1 Rule for Koreans. Most Koreans should thank God for having a porcelain-without-any-flaw skin. I guess because Korean society is homogen; what's acceptable by the society, should be applied by the society. They believe that "the fairer your skin is, the better"; since the society believe "Porcelain-fair skin-without-any-flaw" is a common amongst them, then the less-fair-skin-tone will be categorized as "marginal." I mean, if you have flawless-fair skin then it will be easier for you to blend with this society.
If you have medium or dark skin-tone, then don't be surprised if you will get difficulty to find the shade that really match your skin tone when buying BB-Cream, Foundation, or Make-up Base from Korean products. This matter supported by the entertainment world in the TV and Media that always magnify the beauty of flawless-fair skin as necessity thus unconsciously herding women to follow certain actresses or singer as their beauty role-mode. Let's say their idea to build a concept of "flawless face is the beginning of good impression."
What do you need to achieve a flawless (fair) skin?
First, you need a healthy skin condition. Grabs a lot of moisturizer into your skin and leave it sinks well. A healthy moisturized skin will easily set any base make-up absorbed by the skin and helps your skin looks supple. Then, followed by a BB-Cream or Foundation 1 tone lighter than your skin-tone to give you a fair look. Blending well is all you need at this stage. If needed, apply an additional moisturizer product like "Etude House Nymph Aura Volumer" to give dewy finish into your look. Always remember; what you use for outside should be supported by inside, this require a lot of water consumption to maintain your skin's hydration. Read
here
for reference.
Key product to achieve this look: Laneige Water Sleeping Pack_EX, Etude House Nymph Aura Volumer, History of Whoo skin care set (which is ridiculously expensive)
2. Bold Eyeliner.
CL 2NE1: After
X
CL 2NE1: Before
Ga-In Brown Eyed Girl: Before & After
Holy-mother the power of make-up!!! I can't comment anything than "eyeliner totally transforms your look." As a society with Monolid eyes, Korean seems has a lil bit self-esteem with the monolid eyes. Some people choose the easiest, hurtful and permanent way by having a double-lid eye surgery (even some consider it as non-surgical procedure aka. corrective procedure) but some choose the creative method in applying theatrical make-up product and method. To give you easier outlook, just take a look at comparison of CL 2ne1 and Ga-In Brown Eyed Girl photos above or below photo. asdfghjkl~
Some of you might think that it only happens to K-Pop artists but don't be surprised if it also happens in the real world. Most far East people who concern with their look might do anything to achieve a big, round, cat-eye look. In some cases they even masquerade their photo by applying certain technique (applying layers of mascara and eye lashes) and justify perfect angle just to get the perfect selfie (take a look at photos below)
But c'mon people;
nobody's perfect
. You have to accept yourself; if its difficult for you then fake it. I'm also the kind of person who often flaunt what I think attractive and hide my imperfection because who will love you more than yourself? I learned that everybody else just want to see your beautiful side but they often neglect your ugly part but somehow try to emphasize your own beauty because everybody is unique.
What do you need to achieve a killer eye?
Not much; just an eyeliner and skill. However I think a skill is the difficult part; there are various technique in applying eyeliner but not everybody can do it since it requires a high level of concentration and patient. Tips for beginner:
put your elbow in a flat surface for easier application
since it will minimize the chance of shivering or shaking.
Choose pen eye liner instead of kohl or gel liner
; tense formula like kohl easily smudge during application, so better choose a pointy tip for easier application. To achieve Korean's typical bold eyes, you can try to apply more product with a sharp edge on the outer corner of the eyes. Cat's eyes style works best to achieve the Hallyu style or check
here
for more ideas.
Key product to achieve this look:
Clio Kill Black Eyeliner; Tony Moly Backstage Gel Eyeliner 01, Dolly Wink Pen Liner (actually it's a Japanese brand, though XD )
3. Vivid Lips.
Cheon Song Yi
Yoon Eun Hye
Sulli & Crystal
My favorite part! Bold Lips! ♡ I'm quite a practical girl; a swipe of bold lips already boost my mood, but for Korean's bold lips like this are typical of Spring-Summer trend or style (I guess) or My Love From The Star hype that starts after Cheon Song Yi began to popularize it at the end of last year. From Korean Drama make-up trend to Korean make-up brand latest trend, this trend sure the talk-of-the-town at the moment.
However, I hardly see this style on Korean's lady daily basis since this trend seems to suitable for young women instead of working women. It also needs quite guts to put a vivid color on since it will automatically attract people's attention on your lips. The trend also requires high maintenance since drying and chapped lips will accentuate your lips texture. But again, don't you want to make your lips looks kissable? ;)
What do you need to achieve a kissable bold lips? A moist lips; you have to prepare a-well moist lips by religiously scrub it with sugar and honey or lip's scrub. Lip balm application also required to moisten and soften the surface. Bold lipstick like this requires less make-up application; a slick cat-eyes liner or groomed eye brow is all you need. Takes no time for application but need more attention on lip's condition. A blue-based color like Fuchsia will elevate your look and make your skin-tone's bit brighter and yellow-based color like Orange warms up your skin-tone.
Key product to achieve this look: Etude House Vivid Lips Fit, Innisfree Tint Lip Mouse, Laneige Intense Serum Lipstick, Iope Water Fit Lipstick in No. 44 Forever Pink, YSL Rouge Pur Couture in #52 in Rosy Coral (I should stop it otherwise I will mention all kinds of my fave lipsticks)
FINAL WORDS
So, don't you think that Korean's make-up point is interesting? There are other points like strong eye brow or glossy lips but these 3 are likely seen in many Korean Drama entertainment aspects and based on my (random) observation of Korean women in Jakarta. It is interesting to know other beauty concepts from other culture. Unlike Japan which has the famous "Gyaru" or "Ganguro" make-up style, Korean known for it's
Ulzzang
style.
Not all make-up point above is applied on Korean's women since many external aspects influence their daily style like occupation, belief, etc.
Frankly to say, there's even one of my boss' wife who never, ever put any make-up on. No wonder I assumed them as "simply plain"...
Still,
beauty depends on the eye of it's beholder
; you can't compare one person to another, all you can do is trying to figure out which style works best on you and use it to emphasize your attractiveness. ♡
I love being a woman and I always embrace the good-side of being one. Somehow, we know that being a woman is not easy as it seems, let's say; man often judge woman based on her appearance *ehm* and often forget that inner-beauty still exists in this time and will attach for a life-time. So, no wonder that "woman puts make-up on to attract man, and man tells lie to attract woman." :))
Hope you enjoy my post, fellas~!
Ahjumma Daesung well said it